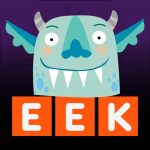 BridgingApps just published the following BridgingApps Featured App on the site:
First Words Halloween is an early learning app for literacy and fun. Using this cute app, pre-readers and early spellers will enjoy learning their favorite Halloween words. This app features 54 words, an easy to use interface, phonics and letter options and fun illustrations and sound effects. First Words Halloween aligns with Kindergarten and First Grade ELA Common Core Standards and is recommended for learners between the ages of 2 and 7.
Learners play by simply dragging and dropping individual letters into the correct word box to complete Halloween themed words. The letter name option works well for students who need assistance with letter identification and spelling. With the phonics option, learners hear the sound for each letter as they place it in the appropriate box. App facilitators can modify options to customize the learning experience. Word order, letter order, letter hints and letter case can be adapted.

First Words Halloween is a high quality app with its easy to use interface, cute graphics and fun sound effects. The students we trialed this app with were able to play independently, engaged and had a great time learning how to spell and read Halloween words.
Click on the link below for full review:
https://insignio.bridgingapps.org/apps/2d6e6db5-e403-d815-f04c-cba600d1a468