Read Time 3 Minutes
In honor of National Dog Month, BridgingApps dedicates this post to all hardworking service dogs past and present.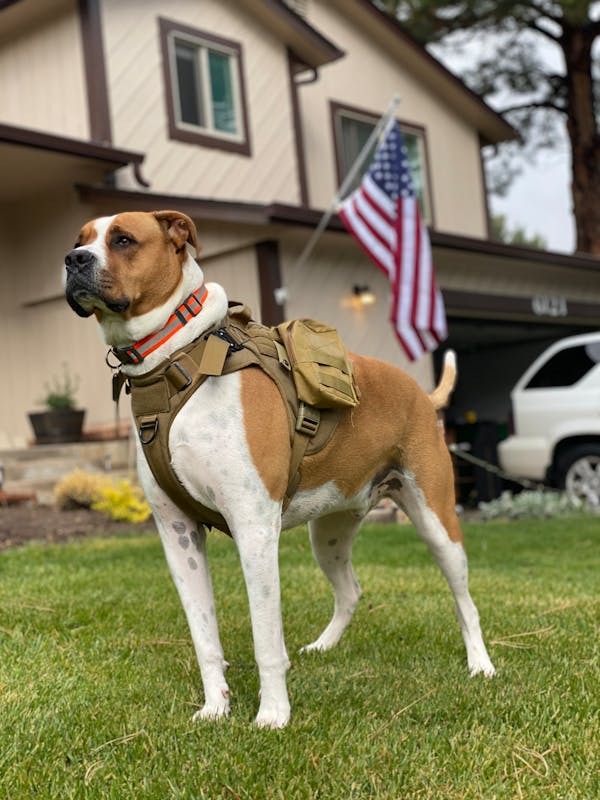 Working dogs have been part of human civilization for thousands of years. Once upon a time, a wolf or two or three chose the comforts of human camps over life in the wild, and humans discovered the benefits of having four-legged hunters in the tribe, and a branch of wolves split off and evolved into the domestic dog—and, over subsequent centuries, into the many breeds of dogs we know today. Various breeds were developed and trained for specialized hunting, guard duty, transportation, war, and rescue work—as well as for comfort and companionship—and now, it's hard to imagine human society functioning without them.
Large-scale training of dogs to assist people with disabilities, however, only came along in the twentieth century. And for the first several decades, the term "service dog" was unknown. Disability assistance dogs came in one category—guide dogs for the blind—until the mid-1970s, when the idea of training dogs to assist people with other disabilities began gaining momentum.
Dogs now are trained to perform an enormous variety of services, including:
Carrying packages
Picking up dropped objects
Pushing elevator buttons
Opening doors
Pulling clothing zippers up or down
Alerting people with hearing impairments to the sound of a knock or a fire alarm
Providing physical support for someone with poor balance
"Running interference" for people who fear being crowded
Providing a calming influence to prevent or quell panic attacks
Awakening people from traumatic nightmares
Reminding someone to take medication
Alerting help in case of seizure or other medical emergency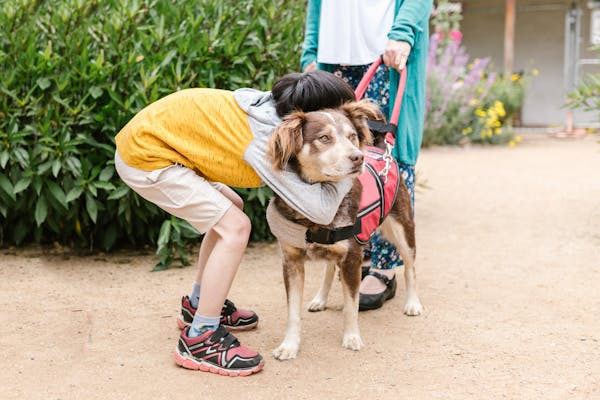 The History of Service Dogs: A Timeline
1916: The first recorded guide dog school opens in Germany.
Post-World-War-I: With many veterans suffering permanent blindness from injury or chemical weapons, the demand for guide dogs spreads.
1927: The Saturday Evening Post publishes an article, "The Seeing Eye," on European guide dogs, stimulating U.S. interest in the concept.
1929: The first American guide dog school (still in existence) is incorporated and named The Seeing Eye. For decades after, "guide dog" and "seeing-eye dog" are used synonymously in the United States.
1975: Dr. Bonita Bergin, having observed "service donkey" traditions in the Middle East, opens Canine Companions for Independence to train dogs in assisting people with mobility impairments. Canine Companions uses "service dog" as an official term.
1989: Service dogs are included among "reasonable accommodations" as the Americans with Disabilities Act is drafted.
1990: The ADA becomes law.
Early 21st century: As a new generation of war veterans draws public attention to post-traumatic stress disorder, service dogs are trained to assist people with mental as well as physical disabilities.
2021: The Puppies Assisting Wounded Servicemembers for Veterans Therapy Act officially adds PTSD to conditions for which the Department of Veterans Affairs provides service dogs.
Do You Want a Service Dog?
Service dogs are wonderful to have, but as living creatures they do require ongoing financial and time investments. And no matter how well-trained and intelligent, they are still dogs and shouldn't be expected to exhibit human-level comprehension, nor be immune to impulse reactions under high stress. Finally, they typically are retired as working dogs around age ten, and can live for an additional 2–5 years during which they need senior-animal care.
Before applying for a service dog, consider:
Does your family have experience with large-breed dogs—what they need in training, care, exercise, and attention?
Do you have breed preferences?
How will your existing pets (of any species) adjust to the presence of a new dog?
Is there space in your home to comfortably accommodate a large dog?
If the person with the disability is unable to care for the service dog's basic needs, who will have primary responsibility there?
If you conclude that a service dog is the right choice for your family, ask your healthcare provider for a letter confirming need for ongoing canine assistance. Then get the dog from an established organization that specializes in training service animals for your particular disability. (If you're a service member or veteran based in the Houston area, Easter Seals Greater Houston has a Service/Companion Dog program available.)
Be aware that there may be a waiting list, and that the dog will need time to become familiar with you and your situation. It may take a year or more from initial application to the day your new service dog can move in with you full-time.
(Note: Don't let impatience tempt you into buying a "service dog" from unproven advertisers: con artists abound, and you could wind up with a poorly trained and even dangerous animal. Also, while pet dogs can be trained to perform service tasks, they can't be taken into "no pets allowed" settings without official certification—and in many places, putting a "service dog" designation on an uncertified animal can be prosecuted as criminal fraud.)
Congratulations on (and to) Your New Service Dog!
The good news is that a properly trained service dog is worth the wait. You now have an extra "hand," four extra legs, and ongoing companionship to improve your quality of life.
Make sure to get familiar with your rights as a service dog owner and to brush up on service dog etiquette. Then go forth proudly: you and your new companion are now part of a time-honored tradition!