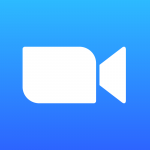 ZOOM Cloud Meetings is a user-friendly video meeting website and app that is FREE. Using the basic (free) account, users can host an unlimited number of meetings that last 40 minutes or less with up to 100 participants with no time limit on 1 to 1 meetings. If users want to host longer meetings or meetings with more participants, there are several subscription options to choose from with costs from $14.99 per month to $19.99 per month. The Zoom website offers support on using Zoom via video tutorials, live trainings, webinars and events, as well as a blog.
To get started hosting meetings with Zoom, go to the website at https://zoom.us/ or download the app and create a free account. The interface on the app is very simple with only 4 options on the home page. They are new meeting, join, schedule, and share screen. Let's briefly walk through how and when you would use each of these options.
New Meeting
This is to start a meeting that you will then invite others to join. A pop-up will ask you if you want video on and will also ask if you want to use your personal meeting ID to start the meeting. This is a number that can be shared with participants without having to send each of them an invite. Once the meeting starts, you can invite participants by clicking on the "participants" icon (looks like the outlines of 2 people side-by-side) and choosing "invite" at the bottom. When you choose "invite", it gives you the option to send a message to invitees, invite using your stored contacts, or copying the URL for the meeting to send via text messaging or email.
Join
This option allows participants to join a meeting using a meeting ID shared from the host either via text message, email, or from a posted event on a website. When joining a meeting, participants have the option to connect using audio and video or only one of those or none. The host and other participants will be able to see who is in the meeting by clicking on "participants" at the top of the screen.
Schedule
This option allows hosts to create a meeting in advance (there is an option to name the meeting to identify topics to be discussed, etc.) and invite participants via email or by sharing the meeting ID in their preferred form of communication. Once meeting details have been set, the host can send out a calendar invite that participants can accept or decline.

Share Screen
This option asks for a "sharing key" or "meeting ID" which can then be used to share to a ZOOM Room. Most of the screen sharing by participants is done once they have joined a meeting, so this option is one the average user would access the least from the home screen. 

The home screen is where most users will initially operate from using the four options discussed above, however there are other menu categories on the left side of the screen that are helpful as well. The second category on the left is "chats". From this category, users can create messages with people in their contact list by clicking on the pencil icon in the top right corner. The third category is "meetings", which is where all upcoming scheduled meetings will be listed, as well as the user's personal meeting ID that they can share with others. The last category is "contacts". This is where the user can look at their stored contacts and choose them to start a new meeting or chat.
One of the great features of the ZOOM platform is the ability for hosts and participants to share their screen. This can be used to discuss stats, explain forms that need to be completed, show videos, and even demonstrate how other features of a mobile device or computer can be used. The BridgingApps team uses ZOOM regularly to explain to clients and professionals how they can use all kinds of apps to make their lives easier. ZOOM allows the sound and video from most other apps to come through to participants clearly, making it a very helpful teaching and networking tool. Overall, the BridgingApps team thinks that ZOOM is a super easy to use app that can be helpful for people of varying abilities in all different industries for both professional and personal networking, team building, and problem solving.
Click the link below to see the full review in the BridgingApps App Search Tool:
https://search.bridgingapps.org/apps/88fc3e4f-bb8b-4d08-a090-1484a543ebe7