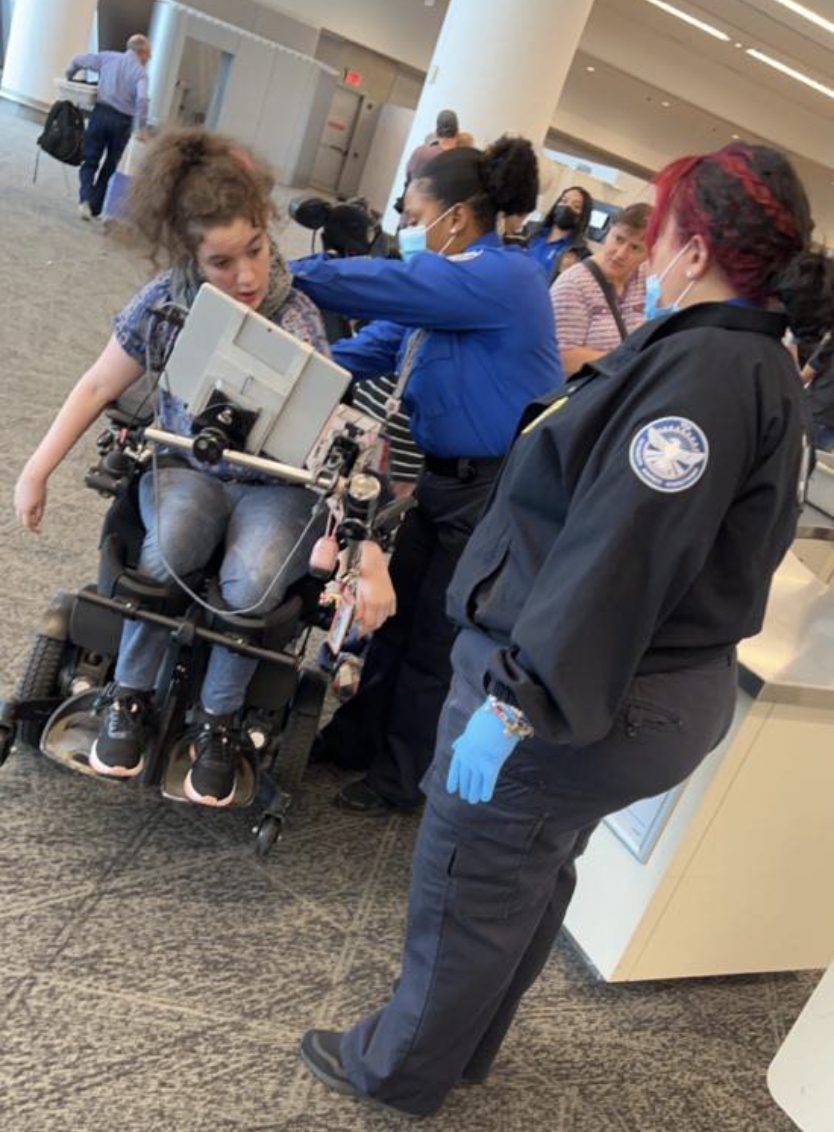 In autumn 2022, BridgingApps team member Andi Fry visited New York City with her husband and daughter Megan, a University of Houston graduate student. Typical leisure travel adventure, except for one thing: Megan has extensive physical paralysis and limited verbal abilities due to cerebral palsy.
The challenges of managing powered wheelchairs and eye-gaze technology increase on the road, especially when the "road" vehicle is an airplane. To help others meet these challenges, our travelers share the following recommendations from their experience. (Thanks also to Tara Rocha, our Digital Learning Specialist, for helping organize the information.)
Use an App to Organize Your Flight Plans
Most people appreciate airline apps for booking flights, downloading electronic boarding passes, confirming arrival times, and the like. While generalized travel websites (Travelocity, Expedia, Kayak, etc.) are more cost-effective because they bundle airline tickets with hotel and vehicle reservations, airline apps offer more for people with disabilities. Notifications of flight or gate changes, or on where to pick up your belongings, arrive faster and more reliably. And it's easier to contact employees for assistance and to find options for direct flights—which means less risk of losing your luggage, or, worse, your wheelchair.
We're particularly fond of the features, available on most airline apps, that let you note needed accommodations:
Preferred seating
Specific type of assistance for getting on a plane
Amount of boarding time needed
Weight of your wheelchair and other equipment
Additional flight insurance for wheelchairs
And many apps include, at no extra charge, in-flight features like food choices, music, and entertainment.
Releasing Your Life Line (Wheelchair)
Unfortunately, accessibility laws do not yet require airlines to provide "tie-down" spaces like those in city mass transit, where passengers can board in their own wheelchairs and simply roll into a space where the chair is secured with the user still in it. The awkward, but standard, air-travel alternative requires wheelchair users to transfer to a smaller "aisle chair" for boarding, and from there to a regular airplane seat. Their personal wheelchairs fly with the checked baggage.
To ensure your wheelchair isn't tossed about carelessly like checked baggage, make sure it's officially marked as a "Life Line" item—the airline term for items that need special (and gentle) attention. Further prepare your wheelchair and yourself by:
Removing all headrests, electronic monitors, and other wheelchair attachments to your carry-on luggage, where they won't be in danger of jiggling loose and getting lost.
Labeling the chair with essential information, especially how to reach you with any questions. Include a diagram showing switches and other essential parts. (This is particularly useful to handlers at your destination airport, who won't be on hand to see you demonstrate in person.)
Folding the chair personally for loading (or having your regular companion/caregiver do it) to make sure all moving parts are handled properly.
Including "just in case" items in your carry-on luggage: a devices charging station, plus duct tape and tools for "patching up" if the chair does come back with a dent or loose part. You might even photograph the wheelchair before the flight, in case you need evidence that it was damaged after leaving your possession.
Keeping Tabs on Your Equipment
Fortunately, you don't have to stay completely uninformed on where your chair, or other large equipment, is between your check-in point and the pick-up area at your destination. You can get a GPS-connected app that keeps virtual eyes on your assistive technology. Tuned in to stickers or tags that attach directly to the equipment, these apps are inexpensive and easy to install, and they give you peace of mind by tracking every tagged item from one spot.
Our favorite options are:
Tile, which works with both iOS and Android, and comes in variety packs that include stickers plus tags with attached keyrings.
AirTag for iOS, which also sounds an alert if unidentified AirTagged items end up in your luggage.
Chipolo, which includes a "wireless selfie" feature that connects finder tiles to your device's camera.
Now, all that's left is to "reboard" your wheelchair and roll forth into your real travel adventure!
Coming Soon: Traveling with Mobility Impairments, Part II: Destination and Stay