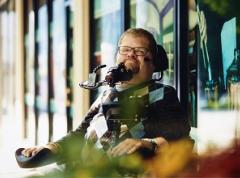 At the age of eight, Todd Stabelfeldt became a C4 quadriplegic after he was accidentally shot by his young cousin when they were playing with an antique rifle that was left lying around his house. In spite of this incredibly tragic event, Todd's story has been one of continued growth and achievement.
A college graduate, successful businessman and entrepreneur, mentor and public speaker are just some of his accomplishments. He also has a foundation that provides independence technologies to people that are spinal cord injured.
Using Apple technology paired with a Tecla Shield DOS switch interface, Todd is able to use an iPhone, iPad, or laptop without touching the screen. Todd has no movement below his shoulders, so control of his devices are completely managed with his chin and mouth.
To learn more about Todd's success with technology check out this video: