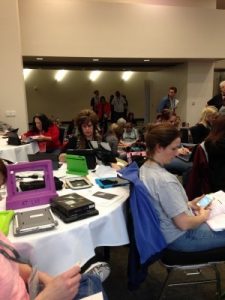 The Texas Computer Education Association Convention 2014 was abuzz with a variety of new and exciting educational technology resources, and BridgingApps was thrilled to be part of it! The TCEA annual convention brings together educators, instructional personnel, therapists, technology specialists, and even app developers  to network and learn about innovative teaching and learning for the classroom.
This year's convention marked the first year of the Assistive Technology Academy, which was an entire day devoted to topics of special education and assistive technology to support students with disabilities.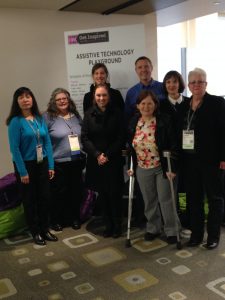 Complementing this Academy, is the ever-popular Assistive Technology Playground. This playground is an area designed specifically for teachers of students with special needs, featuring technology tools and software that target students who require special assistance to continue growth in learning. Working with the Region 4 Educational Service Center and helping to run the AT Playground was both fun and rewarding. Each guest left with solid information and a place to find more resources for their individual needs.
All of our sessions were well attended and we enjoyed connecting with educators and businesses interested in improving special education. One of our more popular sessions was Apps for Inclusion. It was impressive to have so many regular education teachers attend with an interest in using technology and apps to include students with special needs into their classroom activities. Click here to see the app list created for this presentation. Many were using their mobile devices to take notes and record sessions. Bonus points for teachers going green!
Cool Tools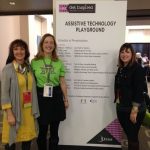 We always love catching up with the folks from Bookshare, and we were reminded that not all digital materials are accessible! Bookshare is an excellent resource for people with print disabilities. Along with books, Bookshare makes newspapers and magazines accessible. Qualifying for Bookshare is a simple and straightforward process, and schools receive training free of charge. Many of BridgingApps' users find Bookshare to be an invaluable tool. Read about how a young boy named Connor uses Bookshare to find success in school.
Our friends at Locomotive Labs continue to impress and inspire us with their accessible apps targeted at kids with disabilities. Without a doubt, they set the standard for app creation that has adjustable levels, accessible features and creativity. Check out our app reviews of Kid in Story Book Maker and Todo Telling Time.
We enjoyed learning from Donna McLauchlin about useful tools such as InfuseLearning, SymbalooEDU and Wolfram Alpha.
Favorite Exhibitors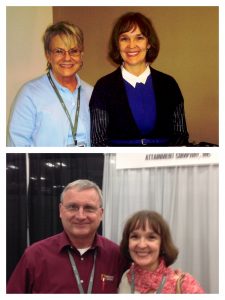 It was a pleasure meeting Don Bastian, founder and CEO of Attainment Company. His education business produces a variety of educational products that help people with cognitive disabilities succeed at school, work, and life. We at BridgingApps particularly appreciate that Attainment's apps are switch accessible and feature age neutral graphics, making their apps appealing to a wide number of individuals with disabilities.
Bump Armor is new to the mobile device case market with a case created from foam. Their case is similar to Big Grips, but has the advantage of fitting into some mobile charging carts, including Anthro. This is a huge time-saver for teachers who spend value time taking iPads in and out of cases prior to syncing and charging.
BrainPop continues to provide excellent content for students, and we appreciate that this content appeals to multi-sensory learners, is aligned to state standards and features closed-captioning!
We were impressed and inspired by the educational technology innovation at TCEA. Each year gets better and we are already anticipating next year's event!