Written By Katherine Swarts
Read Time 6 Minutes
To celebrate Father's Day, today's post is written for fathers, who often feel neglected amidst all the parenting advice and support groups aimed at mothers. Every dedicated father—single or paired up, full-time or part-time, with one child or several—deserves full credit for the work he puts into parenting.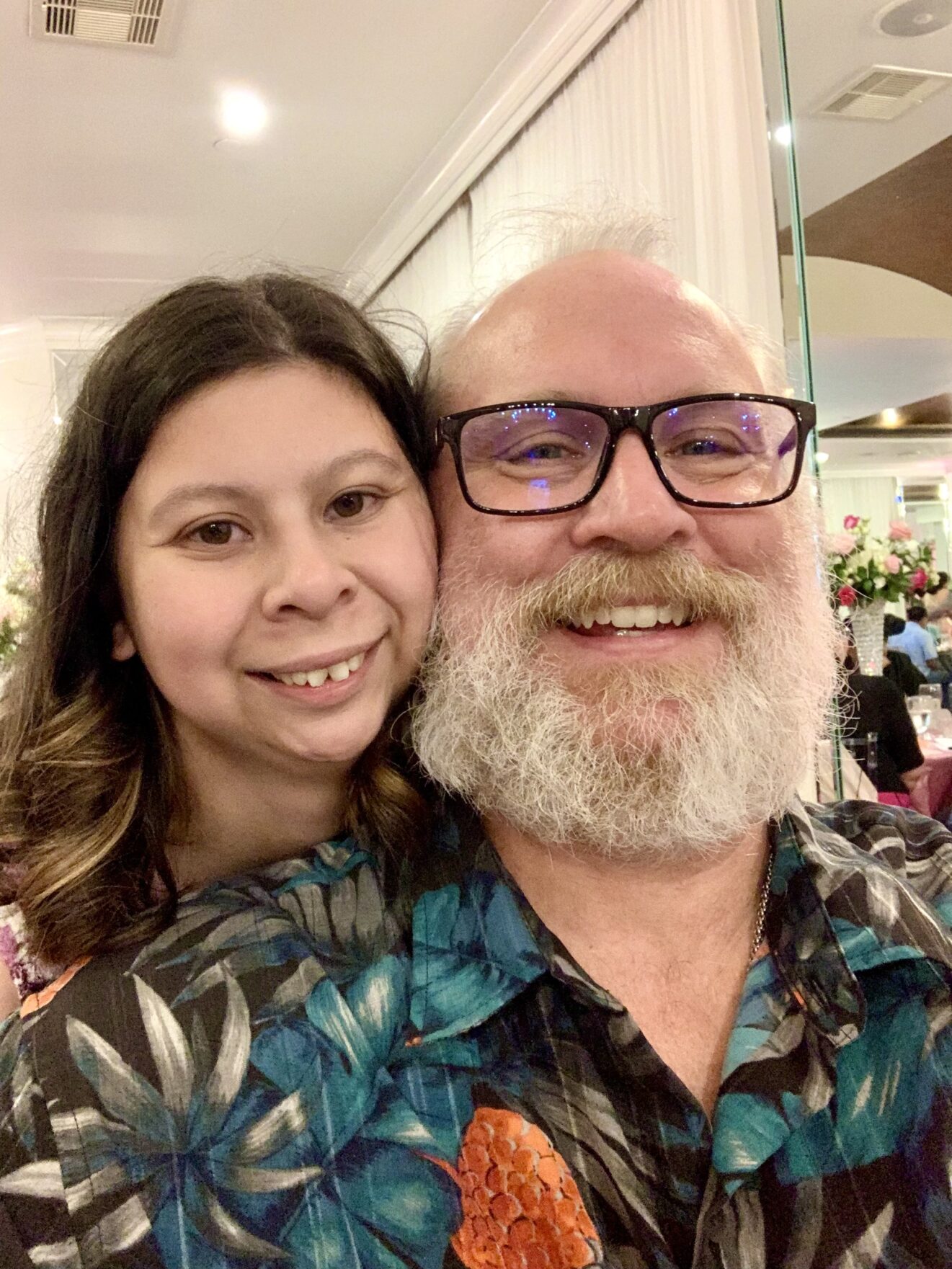 Fathers also deserve opportunities to share their personal insights gleaned from experience in special-needs parenting. For the father's voice in this article, we interviewed ESGH client SallyAnn Roesch, who has been involved in our RAMP, High School/High Tech and BridgingApps programs and her dad, Alan Roesch. She is a student at Stephen F. Austin High School in Fort Bend ISD and is also a part of the programs to help her transition into adulthood. Mr. Roesch is the father of four girls and SallyAnn is the second oldest in the family.
How can the father of a special-needs child (or children) cope and thrive?
Give Your Kids the Best of Your Time
The stereotype of fathers as non-nurturing providers has faded, but many men still pressure themselves to "succeed" and to stop at nothing to give their kids the best of clothes, gadgets, and worldly possessions. Take our word that kids prefer Dad's attentive presence to a pile of presents. And remember that purely physical presence isn't enough: even when working at home, you can be emotionally "absent" by giving your kids half an ear while simultaneously trying to do something else.
Roesch, comparing present-day life as a dad to growing up with a father who was constantly at the office: I wanted to be home more. And I think society has come around to where they like to see that all parents are involved with their children as much as they can be. The greatest blessing is seeing your kids' everyday growing.
Don't Be Afraid to Be Affectionate
And be affectionate in ways that your children interpret as affectionate. Some special-needs kids are ultrasensitive to touch and become hysterical if surprised with a bear hug. Other special-needs kids live for nonstop cuddling. What's important is that your child knows you care enough to learn their "love language," rather than trying to change them to fit your or society's preferences.
Roesch, on special challenges for fathers with young-adult daughters: People look at us funny sometimes—a man with a girl hugging on me in public—before they learn she's my daughter and not a girlfriend. We've learned not to be bothered by outside forces looking at us funny and I just introduce her as my daughter.
Let Your Kids Realize Their Potential
It's easy to get in the habit of constantly protecting your children, especially when they have special needs and may never grow up to be as self-sufficient as the average person. But too much protection—especially regular input along the lines of, "That's too hard for you"—will only stifle the priceless contributions they can make to the world. Encourage them to try new things and pursue their dreams. Progress may come at the price of frustration and even meltdowns, but it always proves worth it in the end.
Roesch: Special needs people don't want to be coddled. Sally has grown a lot, in the last two years especially, and we've stopped worrying about what she can't do. She can do a lot more than you'd expect: good at being the one-track mind keeping me on task, a good mother hen to her younger sisters. Now she's decided to accept the challenges of making it through a change [adjusting to a new volunteer supervisor at Happy Faces Pet Ranch, a nonprofit animal rescue shelter where SallyAnn helps exercise the dogs].
Take Full Advantage of All Available Resources
Men are notorious for being unwilling to admit they need help, advice, or support—that there are struggles they can't handle alone. But everyone has human weaknesses, and it's an act of strength to acknowledge yours—especially when dealing with the extra responsibility of meeting a child's special needs.
Besides emotional support, you'll likely need practical help navigating the red tape of special needs education, health insurance, and government assistance—and, if you have a young-adult child with below-adult competencies, the hassles of securing appropriate rights for the "child" to manage his or her own property. Often, the best advice is found through religious organizations or other nonprofits, or through a friend who's been there.
Roesch: Information is the key to supporting special needs parents, especially when everything is thrown at you. We're still working out the issues surrounding Sally's share of her mother's estate. I worry about her getting run over and taken advantage of: people should be able to use their money for their own needs, not to pay the organizations that are supposed to help them.
Remember to Utilize Technological Resources, Too
We're all blessed to live in an age where there's an app for everything: BridgingApps was created to help people with special needs (and their families) locate the right apps to make a "normal" life possible. (Watch for upcoming information on our new App Search Tool, scheduled to be fully operational by Fall 2022 and designed to make it even easier to locate the perfect app for your needs.) SallyAnn is pretty tech savvy, along with her dad and have found ways to help technology keep them connected, comfortable, and safe ~ helping everyone to feel at ease.
The Roesch family's favorite apps: Ring—Always Home (monitor and answer your front door from any location at home or away) allows the family to see who is at the door and the girls tap into their Alexa Echo Show without running to the door. They also control their thermostat with their Honeywell Home system. Sally loves to keep track of her family and their whereabouts using the Life 360 app. SallyAnn has gotten really good at using Siri and speech selection on her phone to help her send messages to her family and have words read aloud in important documents. These are two skills that she and her classmates learned from her weekly technology classes with her transition teacher, Ms. Fowkes and Tara Rocha, our Digital Learning Trainer.
Save Time for Yourself
Every human being needs regular time to do things for no other reason than that he enjoys doing them. (If that's not reason enough, one of the underlying purposes is to keep you recharged and healthy to care for your loved ones.) And passive "screen time" is rarely adequate. Pick a hobby or sport you personally enjoy—something that makes you feel purposeful and truly alive—and give it a weekly inviolable-appointment spot on your calendar.
Take care of your basic physical health also. Eat healthy, go to bed on time, get adequate exercise, practice stress-management techniques, and keep up regular medical checkups and vaccinations.
Roesch: I like to have at least one day of the weekend we're not running anywhere, to decompress. A favorite game is "Polish poker," which doesn't require much thinking. Sally is into pampering herself, but every now and then I have to remind her to have a rest time and shut down, to go to bed and leave something until morning.
In Conclusion
There's no better way to end this article than with the following quote:
Roesch: It's not the "challenge" of having a child with special needs. It's the privilege of having a kid with special needs.