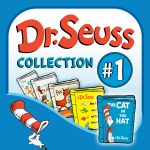 National Education Association's Read Across America Day is a nationwide reading celebration that takes place annually on March 2, the beloved Dr. Seuss's birthday. Across the country, thousands of schools, libraries, and community centers participate by bringing together kids, teens, and books.
Dr. Seuss Books are excellent for reading readiness and word recognition. Users of all ages and abilities love and enjoy Dr. Seuss books.  With silly rhymes and whimsical illustrations, the classic stories captivate children and encourage literacy.
Our favorite Dr. Seuss App, Dr. Seuss Beginner Book Collection #1, is an interactive collection of five books by Dr. Seuss that aligns with many Kindergarten through 2nd Grade Common Core Standards. The books included are The Cat in the Hat, One Fish Two Fish Red Fish Blue Fish, The FOOT Book, Mr. Brown Can Moo! Can You? and Fox in Socks.
Students can choose to read the book themselves, have it read to them or auto play it. This feature allows the books to "grow" with the learner. Young children will enjoy the passive experience of having the story read to them. Then, they can move up to narration with highlighting. Ultimately, students will read the stories alone with the ability to touch any word for prompting. Another fun feature is tapping on objects on the screen to trigger the pronunciation and spelling.