Hope you saw our recent blog post on Celebrating Halloween with Disabilities! And thanks to everyone who made time to visit Easter Seals Greater Houston on Tuesday, October 25, when our in-person Pumpkin Patch party returned after a two-year pandemic hiatus. (The Pumpkin Patch has been an annual event for ten years.)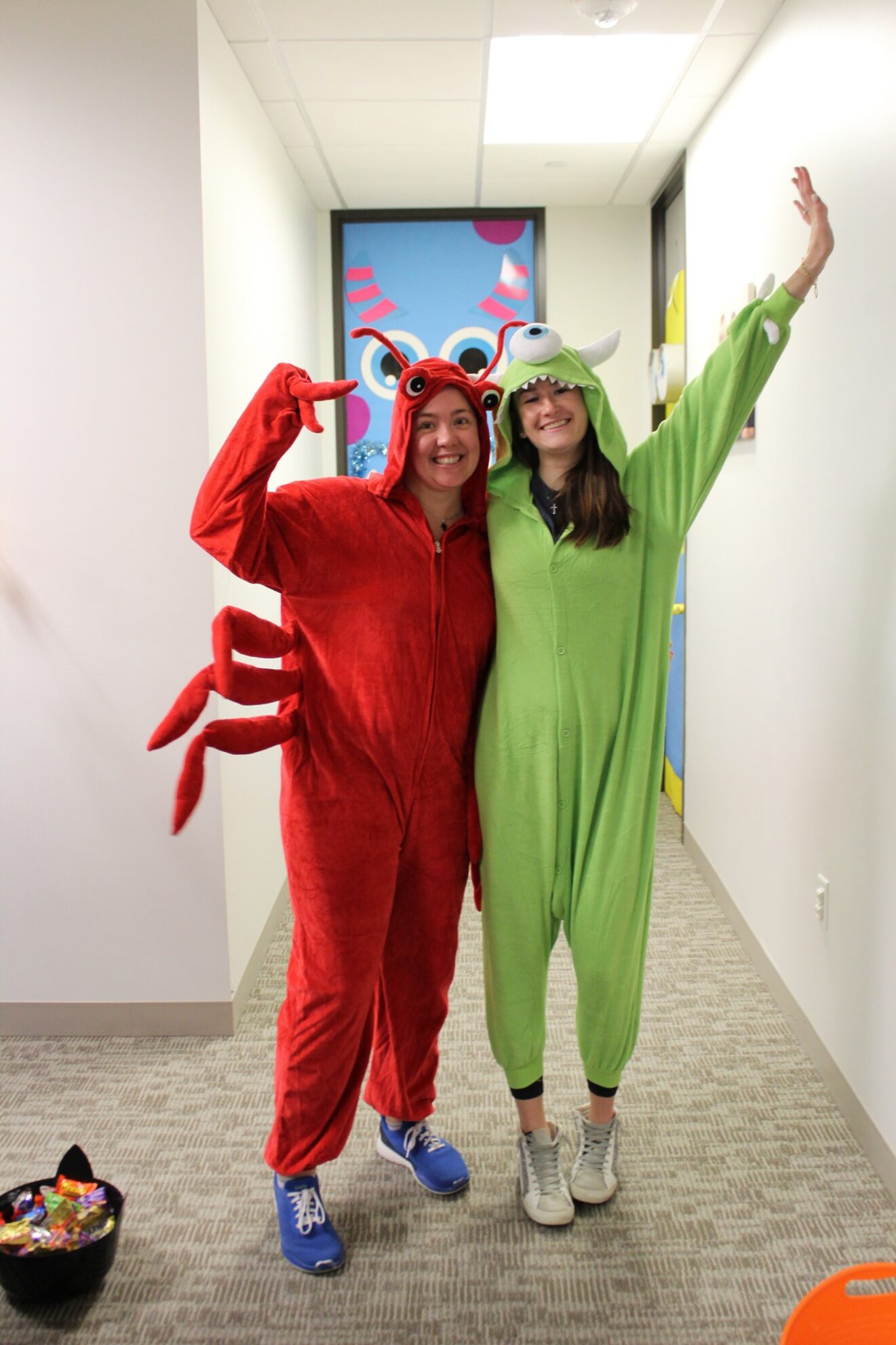 The purpose of Pumpkin Patch is to provide a truly enjoyable celebration for children with disabilities and their families: a celebration that is neither too scary, nor too overwhelming, nor too inaccessible. This year's program featured:
Trick-or-treat stations throughout our upstairs and downstairs offices
Treats and toys selected with a range of food sensitivities in mind
Photography and face painting
Halloween-themed games and crafts
A door-decoration contest that spawned a host of friendly ghosts, funny mummies, and spooky-pop-culture characters from Harry Potter to Scooby Doo
Decorations offering a variety of close-up sensory experiences
Over a hundred visitors turned out, and our BridgingApps team was right in there sharing the work and the enjoyment!
Cristen Reat, Program Director: It was so much fun to be back in person and see the creativity, energy, and love that Easter Seals' staff put into the event. For many families who have children and young adults with disabilities, the act of physically going trick-or-treating can be fraught with anxiety; so a family-friendly, safe environment to participate in the holiday is truly appreciated. (Might I also say a "treat"?) My favorite part, of course, was our BridgingApps' team's sensory adventure with Scooby Doo and Muppets Haunted Mansion. Items to touch, smell, see, hear, and taste—the kids loved it!
Daryn Ofczarzak, Speech Language Pathologist: It was such a great day. We love seeing the kids and their costumes, and I think the kids enjoyed seeing their teachers, therapists, and other adults dressed up and acting crazy. Our BridgingApps sensory decorations were a huge hit! Kids and adults all LOVED being able to interact with the different textures and sounds!
Tara Rocha, Digital Learning Specialist: I've worked on the BridgingApps team for eight years, and I was delighted to bring my four kids to trick-or-treat and to see the wonderful clients, families, and coworkers that I get to work with on a daily basis. They were so excited to see everyone and everything—each of the doors, the fun and unique displays. Their favorites were the witch with the bubbling brew and the Harry Potter Suite. Pumpkin Patch is such a fun and inclusive way to celebrate.
Katherine Swarts, Digital Content Writer: A good time was had by all ages, infancy through 85! The most imaginative decoration theme was the hall of feelings (my term), hung with monster characters representing Anger, Fear, and other strong emotions.
If you missed being at the Pumpkin Patch in person (and even if you didn't), you can still "see" it on Facebook under Album Pumpkin Patch 2022. Post your compliments—and your suggestions for 2023!
Happy Halloween to one and all!