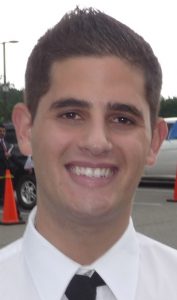 Meet Ned. He is now 21 years old and a junior at SUNY at Buffalo. If you asked me twenty years ago where Ned would be today, I would have difficulty answering this question. When Ned was 18 months old, my cousins–who are therapists and worked with the Committee of Special Education–advised me to have Ned evaluated. His symptoms were as follows: little or no language; screaming to a pitch that could break a glass; could not drink from a bottle, but could breastfeed; could not raise his upper body to crawl; night terrors as he got older; and the list continued.
My ex-husband and I took Ned to a facility near our home to have him evaluated. As we waited, I thought the therapists would come in and say, "He is just fine, go home and give him some time". Three hours passed and in came a physical therapist, occupational therapist and a speech/language pathologist. Each had something to say; from hypotonic, to receptive and expressive language difficulties, to sluggish fine motor skills. The recommendation: a special pre-school and classified as a child with a disability. What next?
Back then there was no Internet, but a friend recommended an organization called SEPTA- Special Education Parent Teacher Association. With trepidation I went to the first meeting. Lo and behold I knew quite a few of the moms. I now knew I was not alone, making this new life a lot easier.
Moving the timeline ahead, Ned received services all throughout his school years. I decided to hold him back in Kindergarten even though he was a July birthday. He was in a self-contained Kindergarten for the first year in a different school building. The following year he started fresh in Kindergarten with the most fabulous teacher! Ned acclimated quite well to school.
As he got older he was "labeled" Learning Disabled. I did a tremendous amount of research, became a parent member for annual reviews and received my Master's in Special Education. At the same time the computer was just beginning to evolve and I took to it like glue, as did Ned. He benefited from visual learning as his receptive and expressive language skills were always difficult for him. He scored in the 18th percentile in written expression at his last Triennial.
What did we do with the computer? Inspiration Software!!* This program changed Ned's ability to comprehend, organize his thoughts, and most of all study for an exam. This program using his testing modifications (as he continues to do in college) and learning how to advocate for himself, allowed Ned to graduate high school in the top 50 of his class.
Today Ned uses an iPad. Overjoyed at this tool is an under emotion!! Ned is a graphic arts major and the media director at SUNY at Buffalo. I loaded his iPad with apps that I thought would benefit him. Here are Ned's thoughts:
I am neat and organized, but best of all I never worry about losing a piece of paper. Instead of packing my book bag with notebooks for every class, I just put in my iPad and stylus. It has helped me color code notebooks, use different colored pens, highlight and immediately send a document to a professor.
Ned's favorite apps and how he uses them:
Noteshelf– Ned made an in-app purchase for "agenda paper" for the app; planners to help him with his weekly agenda. In addition he made a notebook for each class using a different color. He states he prefers the ability to type versus the handwriting in the notebook. He enjoys the app because it feels like a real notebook and the stylus feels like he is writing with a pen.
iAnnotate– Ned states "in many of my classes teachers use PDF's on Blackboard." The app allows him to zoom in, highlight and annotate the PDF's.
Evernote– Ned states "I love the simplicity!" As an RA (Resident Assistant) he has a list of all of his students with emergency contacts right at his finger tips on his iPad, iPhone and of course his Macbook Pro. As the Media Director he receives business cards daily. He takes a picture of it, and zap he has it in all three places. Evernote also works well with so many of his other programs he always knows where everything will be!
Dropbox– Great to have an assignment on the run. Ned states "I love to go to the school library just with my iPad and continue working on an assignment that I uploaded onto my Dropbox!"
Flashcards. Ned is the King of flashcards! Along with Inspiration software, Ned always made flashcards to reinforce facts. Ned is taking Geology this semester. This is a tough class for him as it is not in his comfort zone. He makes his flashcards on Quizlet and downloads them to his iPad. He loves its ease and the fact that he will not lose or tear them.
As a graphic artist Ned loves two other "art" apps."
Livesketch HD: It allows you to sketch like you are using a pencil and paper.
Adobe Ideas– Ned loves to scribble and is responsible for poster ideas as the media director at school. He can do both with this app.
As parents it is our responsibility to advocate for our children. As they grow, the goal is to help them learn to advocate for themselves. I am so proud of Ned as he has practiced all of these skills and uses all of the accommodations he is entitled to. Now with the iPad he is able to maximize use of this tool in college and make his life more organized.
*Inspiration Software referenced in this success story has developed an app called "Inspiration Maps" that will be available on iTunes soon.
–His loving mom Vicki Windman