Life inevitably includes unwelcome surprises; and for parents, among the most dreaded surprises is hearing that their baby isn't as physically and mentally "perfect" as hoped. But if this happens to you, don't let anyone tell you that your child's future will be determined by limitations. A happy, fulfilling life is as possible with a disability as without.
Count it as a blessing if your child is diagnosed at an early age: the earlier a problem is discovered, the easier it is to treat or manage. To help children of all abilities get an early start on thriving, Easterseals' Make the First Five Count program assists parents of young children (up to age five) in nurturing five key growth areas: relationships, exploring/learning, communication, playing, and moving.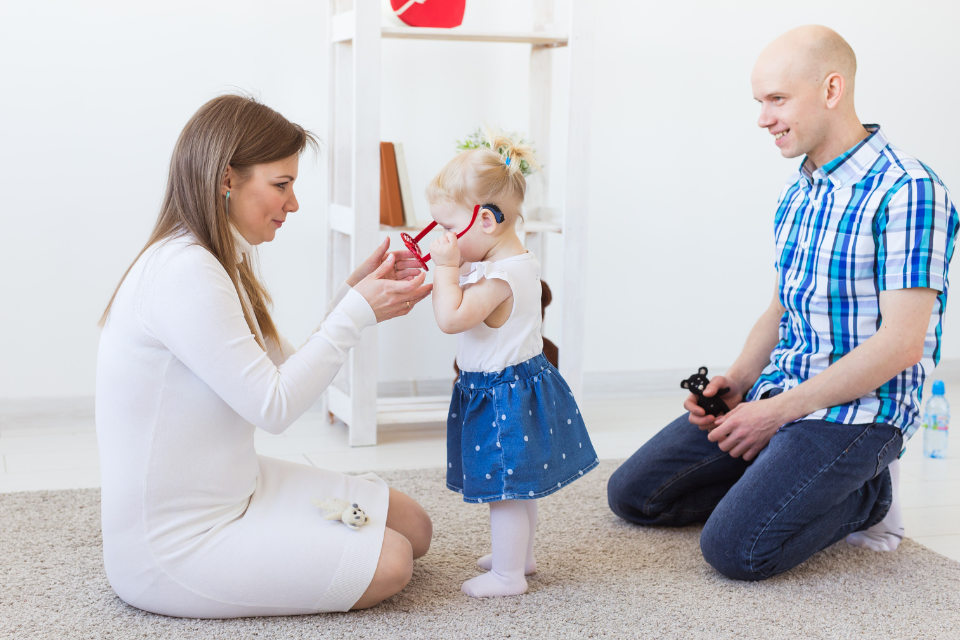 The following text is adapted from a communication with Sonia Salas, Assistant Program Director and First Five director at the Early Childhood Intervention Infant Program, Easter Seals Greater Houston.
Families typically become concerned about their child's development when the child is not talking or walking like other children the same age. Nobody wants to think that their baby is "delayed" (which, to many, conjures up images of never learning to read, function at school, or live independently). However, the important thing to remember is that every child develops differently. Delays can be caused by many factors: some babies are born premature and may need help catching up. Some babies are born with diagnoses that put them at risk for developmental delay; and for some delays, there's no explanation. But with early developmental intervention, most challenges can be overcome. Early detection is always best!
We never want to compare children—and it's important to remember that neither an "at risk" diagnosis, nor a longer-than-average learning period, is the same as genuine developmental delay. However, we do want to make sure we address delays as early as possible. The mission of Make the First Five Count is to ensure that children have every chance to start kindergarten with the skills to succeed alongside their peers.
Early screening for developmental delays makes a huge impact on school readiness; so don't let concerns about being wrong—or fear of being right—lead to procrastination on having your child screened. If a delay is detected, you can access the best services right away.
Up to the time your child reaches 36 months (three years) of age, you can get help through your local Early Childhood Intervention (ECI) program. And if your young child missed being diagnosed before that age, it's not too late to benefit from intervention: your local school district or the Children's Therapy Program can help. Contact Easter Seals Greater Houston with any questions.
Resources: