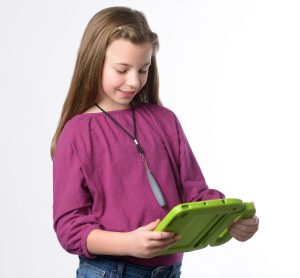 Kensington GummyGrip Stylus for Kids is a fun squishy stylus great for users of all ages and abilities.
Early learners can use the stylus when working with handwriting and fine motor apps.The ergonomic shape was designed by Kensington for small hands and has a firm tip that is highly durable, so it will not wear out even after extended use.
The stylus is also handy for older adults with arthritis.
We like that the lanyard loop allows the stylus to be worn like a necklace, minimizing the chances for the stylus to get misplaced. Using the GummyGrip not only keeps the screen free of smudges, but in the shared-use environments like a classroom, it can also reduce the spread of germs.
$12.99 USD
GummyGrip Stylus can be purchased from www.kensington.com and Amazon.