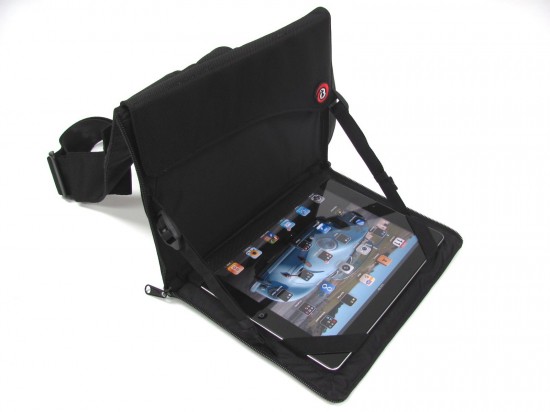 When closed, the iBackFlip resembles a typical messenger bag. It is, however, designed specifically for the iPad. The bag features carefully concealed magnets that work with the iPad 2′s sync/wake sensor in the same manner as Apple's Smart Cover. It includes a smart phone/hot spot pocket, a utility pouch, and even a spot to stow a stylus.
To use the bag as a hands-free iPad holder, simply swivel the bag to the front of your body and open the straps. It looks as if the iPad is held quite close to the body, allowing the user to keep a low profile in public spaces.
The iBackFlip is compatible with the original iPad and iPad 2. It is made in the USA.
If iBackFlip works as it is described, it should keep a user's iPad safely stowed in its case until it is needed. It is easy to imagine taking the iPad along on a casual bike ride or hike.
USDÂ $69.95, plus $5.00 shipping
This item can be purchased from iBackFlip.