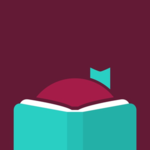 Did you know that you can access audiobooks, eBooks, magazines, movies, and more for FREE using your public library card? Yep, that's right, if you have a library card, you can download one (or all) of several free apps that allow you to log in with your library card information to check out books- all without leaving your house!
We have shared these apps several times lately, because honestly, they are some of our favorites for access to books for people of all abilities and ages and because we want everyone to know about this amazing service! To get started, check out Libby, by Overdrive or Hoopla Digital. If you have a visual impairment and use a voice assistant on your mobile device, you may want to try Overdrive or BARD Mobile. *Please note that BARD Mobile requires the user to disclose their disability in order to qualify for access to their collection of accessible materials.
Now, what if you do not have a library card? This problem came up several times during the COVID-19 shutdowns and we were happy to see that they Houston Public Library came up with a creative way to solve it. They offer a MY Link Card that allows immediate access to online resources. Although this is offered by Houston Public Library, it is available for FREE to all Texas residents and is even available to out of state residents for a fee.

Thanks to the Dollar General Literacy Foundation, we were able to put together a brief overview of one of these library apps, Libby, by Overdrive, check out the video below.