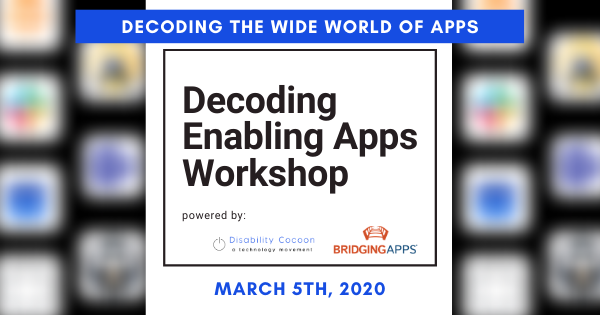 Decoding the Wide World of Apps for People with Disabilities

How many apps do you use on a daily basis? How many are being used by the people you support? We are hosting this workshop to close the gap between your answers to these two questions.
BridgingApps has partnered with Disability Cocoon to co-host this deep dive into the world of apps designed specifically for people with disabilities. We are very excited about this collaboration between organizations with similar missions.
This Workshop features:
1) 30+ app demos
2) apps for living, learning, fun/play, organizing, and more
3) tips on how to search and evaluate apps in a the crowded app marketplaces
4) success stories from seasoned app professionals
5) app developers discussing their app use cases
Join us from the comfort of your home or office – discover how to incorporate apps into your everyday service planning bag of tricks.
Can't attend due to another commitment? No worries, this is being recorded. Go ahead and register – we'll send everyone that registers a link to the full recorded version so you can watch and learn anytime.
**Registration is limited to 100 people so reserve your seat now before they are sold out**