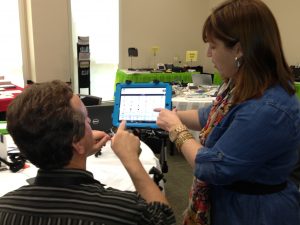 TCEA drew nearly 11,000 participants to this year's conference, and BridgingApps was available throughout the week to meet with visitors in the Assistive Technologies Playground. Along with ESC 4, BridgingApps demonstrated equipment, previewed programs, gave presentations, and visited one-on-one with teachers seeking to implement best practices in serving special needs students.
Although in previous years TCEA has featured iPlaygrounds—an area designed to encourage interactive hands-on learning—2013 marked the first time the focus was specifically on assistive technology for students with special needs. Teachers deeply appreciated the substantive focus on integrating mobile device technology into classrooms with students who have special needs, whether in an inclusive classroom or self-contained environment. One teacher from Katy, Texas explained that as a special education teacher, she never had the opportunity to come to the TCEA conference and was only in attendance because one of her regular ed colleagues couldn't come at the last minute. She was overjoyed at "the resources available that address special education and my students' needs."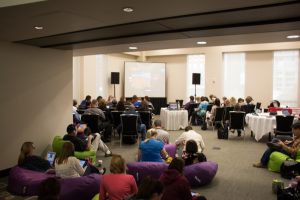 A variety of mobile devices such as the iPod Touch, iPads, iPad Mini and Android tablets were on display for visitors to explore apps, device accessibility features and ask questions. Adaptive styli, keyguards, keyboard overlays, sturdy cases with Bluetooth capability, and wheelchair mounts were available for visitors to try out. Volunteers and BridgingApps staff gave an overview of using the BridgingApps website and the custom-built app tool Insignio as a resource for families and professionals. A highlight for many teachers was discovering that BridgingApps runs 3 local meetings—Houston, Austin, and McAllen—for professionals and parents to share information on using mobile devices with people who have disabilities.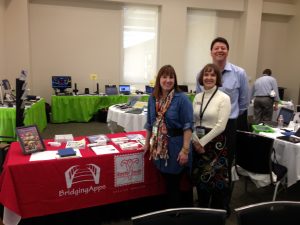 Betsy Furler, Sami Rahman and Cristen Reat gave 7 presentations on topics ranging from using the iPad for Augmentative Communication, to creating your own content and apps helpful for promoting an inclusive classroom. To access the lists of apps that were demonstrated, go to bridgingapps.org Insignio App Tool/Lists and search:
1. TCEA Austin 2013 Apps for AAC
2. TCEA Austin 2013 Apps for Young Children
3. TCEA Austin 2013 Apps for Inclusion
4. TCEA Austin 2013 Apps for Parents as Partners
BridgingApps has partnered with TCEA to create a Mobile Devices for Children with Disabilities certification for those interested in effectively using mobile devices with children who have special needs. Teachers, therapists and parents can take the entire certification or sign up for individual classes. For more information on the certification program, please click on the following link:
http://bridgingapps.org/mobile-devices-certification/