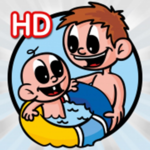 BridgingApps just published the following BridgingApps Reviewed App on the site:
Young Rescuer is an educational app designed to help children learn how to behave in dangerous situations. It presented with a series of games that teach the child to become aware and observant to the dangers around them. There are 31 games there are each different and engaging. There are puzzle games, predicting games, matching games and comparison games. Some of the games only require the children to touch a picture described while others require logic and memory skills. There is a narrator for each game that gives information about the safety concept being taught and explains how to play that particular game.
This app was reviewed with elementary and middle school aged children with speech and language delays. It was used to teach the concepts of following directions, new vocabulary words, sequencing and predicting what will happen next. The children enjoyed the games and were able to use the information presented to make the decisions needed in many of the games. This app is highly recommended for older elementary and middle school aged children learning safety and life skills.
Click on the link below for full review:
https://search.bridgingapps.org/apps/21f70438-2984-4458-8a6c-99e9dceea72d?page=NaN&query=young%20rescuer