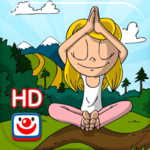 BridgingApps just published the following BridgingApps Reviewed App on the site:
Yoga for Kids is an app that introduces yoga poses in order to encourage young children to stretch and work out. There are 30 different yoga poses which have been adjusted for young children and named after animals.
This app is recommended for parents or teachers of elementary aged children. It is an excellent resource for ideas and techniques to help the children move and stretch during the day. The exercises as also great for adults to use as well.
Click on the link below for full review:
https://search.bridgingapps.org/apps/fcaff270-1bc7-45ce-849a-6b8c4e59b16d