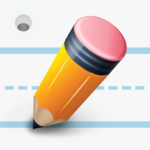 BridgingApps just published the following BridgingApps Reviewed App on the site:
Write My Name by NCSOFT is a fun way for children to practice writing letters, words, names and phrases. The entire app revolves around the skill of tracing. The program first models the tracing of the letter/word and then shows the child where to start. As the child traces the letter, it changes color as well as makes a fun sound. It also makes a different sound if you are not tracing in the right spot. After the child finishes tracing the letter/word a fun animated visual appears that corresponds with the letter/word.
We use this app for spelling, writing names and words, reading single words and repeating single words. The app can be customized to work on tracing any name or word. A picture and audio can be added so the child traces the letters and then the word is read to them. Several children we work with love to add their own words to the app and then trace the letters. We also use the app to encourage children to trace the letters and then repeat the word. This app can also be used for spelling practice. The child (or adult) can enter the spelling words into the "Name Tags" and then the child can practice writing the spelling words.
One of the highlights of this app is the ability to personalize it by being able to make your own cards. It is a great app for practicing writing your name as well as all the core words you use when you first begin writing. The visual reinforcers in this app are simple, yet motivating and educational. Overall, this is an excellent app for any child in the beginning stages of writing. We have used this app with children from 3 years to 8 years of age with diagnoses of dyslexia, Down syndrome, autism spectrum disorders and speech/language delays.
Click on the link below for full review:
https://search.bridgingapps.org/apps/2f6268b5-b8fd-50c4-2cb2-6cb19904e1a0