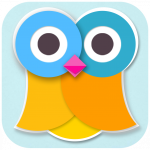 Wikids is a mini encyclopedia for children. This version includes the following categories animals, countries, landmarks and monuments, nature, and traditional food. The app also includes the alphabet and words that begin with the included categories like Y- Yemen, R- rainbow, Rainforest, Ramen, risotto and Russia.
The free version gives users the opportunity to try animals from cat to porcupine-fish. Wikids: Animals, Nature, Countries, Landmarks and Food is available for download at the iTunes, Goole Play and Amazon Store.
The child simply taps the animal they are interested exploring. A small description is read out loud as real images of the animal are shown in a slide like manner. The app can be used to introduce reading for information. A beginner research activity is assign students one animal and have them either write or state two facts about the animal of their choice.
If you choose to purchase the app, there are 120 visuals for kids to explore. This app is like having a talking encyclopedia at your fingertips. The full version is $7.99.