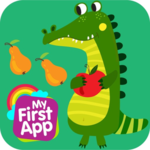 BridgingApps just published the following BridgingApps Reviewed App on the site:
What's Diff 1 is an educational app designed to help early learners learn to identify the odd one out in a group of objects. The app will help develop the users cognitive, language and visual perception skills, in particular visual differentiation skills.
The app presents a line of four objects with one having a particular difference. The child must move the picture of the different object to a blank square on the right side. What's Different 1 has images that have a bold visual difference. For example, three of the pictures could be of similar blocks and one is of a ball. The user moves the picture of the ball to an empty square to the right side of the line.
Click on the link below for full review:
https://search.bridgingapps.org/apps/d5a57885-d874-377b-afb6-6c632acd71bc