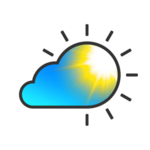 BridgingApps just published the following BridgingApps Reviewed App on the site:
Weather Live is a weather information app that gives users access to their current weather conditions in a real-term, including live weather alerts. The app is free to download, and users can trial the app for free for 3 days. After that, the app is $5.00 a month or $19.99 a year.
The app contains different weather statistics on the home screen, such as the high and low temperature for the day, wind speed, and the "feels like" temperature. It also gives users the chance for precipitation, wind pressure, and cloud settings, including wind. Users can then see a short-term and long-term forecast, and they can report on the weather in their area. This includes sending the app an update on the clouds and precipitation they are experiences. Other features on the home screen include the phases of the moon, wind speed, UV rays, visibility, and a map of the user's location.
Click on the link below for full review:
https://search.bridgingapps.org/apps/5151a64a-42b3-485a-bdfe-b782ca4e8264