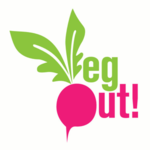 BridgingApps just published the following BridgingApps Reviewed App on the site:
Creative use of technology can have a hand in encouraging and supporting vegetable consumption. Yes. Vegetable consumption. One such example is the VegOut! app from the non-profit organization Recipe for Success. It's not just any "tracker" app, it is an all out interactive challenge that puts discovery of new food and the nutrition concept of "variety" into a fun, digital format.
We know this. One of the most effective routes for dietary behavior change is through positive experiences and interactions with the desired foods. During nutrition education opportunities, taking the culinary angle surpasses the "nutrient fact" dialogue in both excitement level, motivation, and fun . The VegOut! app takes this culinary approach to increasing vegetable intake with a simple challenge. Every month (30 days), eat 30 different vegetables.
Use the VegOut! app to log the vegetables consumed and to seek information and recipes about vegetables that may have never been on one's radar. Yes, eat carrots, tomatoes, corn but expand past those to try parsnips, black beans, jicama, zucchini and more! Start a group challenge with your family, at your workplace, or in your classroom to really make it fun and an impactful experience. Find fun new recipes and share yours to the VegOut! community too.
BridgingApps' Registered Dietitian loved using VegOut! as an experience during a hands-on cooking class program called Project High Five! designed for children with special needs. The kids had fun at the end of class recalling and counting all the different vegetables they interacted with while making the two class recipes. Program follow-up to reinforce and share the classroom experience with families and parents included fun food app ideas with VegOut! receiving positive feedback.
Click on the link below for full review:
https://search.bridgingapps.org/apps/225d3274-6a06-494f-bd4f-f5a9f2c6819e