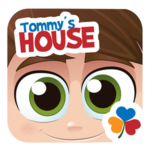 BridgingApps just published the following BridgingApps Reviewed App to the site:
Tommy's House is an engaging educational app that was developed for children aged 3-6. From the moment the app is opened, the user has control over where to go and what to do as he or she explores various rooms in Tommy's house. Each room is full of interactive fun.
We trialed the app with special needs children aged 3-5 with autism and developmental delays. The children would get very excited as they discovered new rooms and activities to do in each room. The everyday items available to interact with provide children with an opportunity to learn adaptive and daily living skills (i.e., eating fruit, brushing teeth). One unexpected bonus to the game is the opportunity it provides to model and enrich language.
Click on the link below for full review:
https://search.bridgingapps.org/apps/7387fe13-daa9-4f53-96f4-1f36899496a7
#bridgingapps #appsforall #educationalapp #specialneeds #langugage