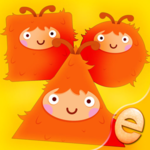 BridgingApps just published the following BridgingApps Reviewed App on the site:
Sing along to a catchy rhyme and toe-tapping music as you learn to identify your shapes with a cast of cute and colorful characters, foods, toys and objects. Toddler Learning Games Ask Me Shape Games for Free was designed by parents and teachers to promote cognitive development and sharpen motor skills in early learners. The free portion of the app teaches 4 shapes: square, circle, triangle and star. For additional shapes the purchase price is $1.99, to unlock colors $2.99 and to unlock all colors and shapes the cost is $3.99.
The app presents with a catchy tune and rhythm asking the child to identify objects of a certain shape. A picture of a particular shape is presented and then the child is asked to identify other objects of that shape. Six pictures of objects are shown along the bottom of the screen and the child must touch all the pictures of the shape named. If the child does not answer in an allotted time, the correct picture bounces, giving the child a hint as to which to choose. After 3 shapes are presented, the child is quizzed to identify all the objects of a particular shape. At the end of the quiz, the child is told how many times they correctly answered with cheering and balloons falling on the screen.
Toddler Learning Games Ask Me Shape Games for Free may benefit individuals who are developmentally delayed, on the autism spectrum, speech and/or language disorder.
Click on the link below for full review:
https://search.bridgingapps.org/apps/0a291f01-0947-473c-bab2-3633e69c8167