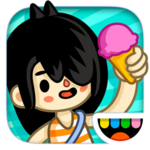 BridgingApps just published the following BridgingApps Reviewed App on the site:
Just in time for summer, Toca Life: Vacation is a fun early learning app that helps develop pre-reading, language and fine motor skills. The engaging app also encourages creativity, problem solving and more. One of the best features of the app is the freedom for children to explore and discover on their own. Feel the excitement of going through the airport to catch a flight. Jumping on a hotel bed. Digging for treasure on the beach. Create all the vacation fun you want with Toca Life: Vacation!
Easy to navigate and well designed with beautiful graphics, Toca Life: Vacation keeps kids engaged and entertained for hours. We have used this app with typically developing children as well as students who have speech and language delays and autism between the ages of 3 and 12. It is a favorite of many of the children we work with.
Click on the link below for full review:
https://search.bridgingapps.org/apps/3e7fbdf9-04e2-4ffc-acb4-346e0ec14283