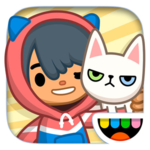 BridgingApps just published the following BridgingApps Reviewed App on the site:
Toca Life: Pets is an educational app for all ages and abilities that helps develop pre-reading, language, creativity and fine motor skills in a fun, pet-themed and self-paced virtual world. Meet 23 new characters and play with and care for 124 real and fantasy animals (look for the service dog). Explore and create stories at the veterinary, pet park, pet store, pet hotel and breeder's bungalow.
Easy to navigate and well designed with beautiful graphics, Toca Life: Pets keeps kids engaged and entertained for hours. One of our favorite features of the app is the freedom for children to explore and discover on their own. Users can create and tell unique stories about pets and animals. They can take their pets on adventures and discover hidden surprises along the way.
Click on the link below for full review:
https://search.bridgingapps.org/apps/88383387-5f73-4970-80ef-3c2022d0c287