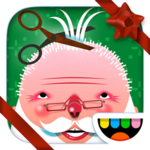 BridgingApps just published the following BridgingApps Reviewed App on the site:
Toca Hair Salon – Christmas Gift is an entertaining game app for preschoolers up to tweens. In this self-directed play activity children can choose to cut, color, comb or style Santa Claus' beard and hair. They can also trim and decorate a Christmas tree. High quality graphics, sound effects and music add to the overall experience keeping kids engaged and entertained during the holiday season.
Great for typically developing children as well as those diagnosed with a learning disability, non-verbal, ADD, or ASD. Toca Hair Salon – Christmas Gift helps develop fine motor skills, language, creativity, decision-making and following directions, all while having fun.
Click on the link below for full review:
https://insignio.bridgingapps.org/apps/5386d990-8955-87dc-27d9-5ecb5d17a1ed