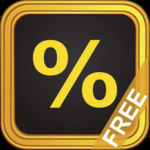 BridgingApps just published the following BridgingApps Reviewed App on the site:
Tip Calculator % Free – Fast Tips and Split Bills is an easy to use app that allows users to quickly calculate a tip based on the amount of their bill. The app is designed for adults and gives them the ability calculate a tip as well as split a bill evenly.
The app is free to download and simple to use. All of the functions of the app are shown on the home screen and its simplicity allows for quick use.
Tip Calculator is an excellent app for anyone who may be looking for an easy way to calculate tips and split bills. We believe this app would be beneficial for young adults, seniors, and anyone with a diagnosis of Down Syndrome or Autism Spectrum Disorder.
Click on the link below for full review:
https://search.bridgingapps.org/apps/a8b0db7d-f022-6424-2fbe-997e767c7125