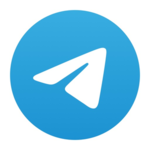 BridgingApps just published the following BridgingApps Reviewed App on the site:
Telegram Messenger is a messaging app for communication. Telegram stands out from other apps, as it is customizable and you can make stickers to express yourself. You easily can access your messages from all your phones, tablets and computers at once. Telegram apps are standalone, so you do not need to keep your phone connected. A favorite feature is the ability to message friends without needing their phone number.
Telegram has accessibility feature support – TalkBack on Android and VoiceOver on iOS. With them, blind and visually impaired users can hear spoken feedback so you can use the messaging app.
Click on the link below for full review:
https://search.bridgingapps.org/apps/67ed9309-e34e-4758-bcc6-b73e536b0916