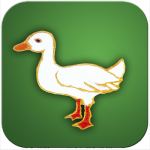 Tap That Pic! is a shape-matching app designed to help early learners develop vocabulary, cognitive skills, instant recall, shape recognition, color identification, recognize objects, hand-eye coordination, memory and following directions. Tap That Pic! is available for FREE at the iTunes store.
BridgingApps recommends the Tap That Pic app for typically developing early learners as well as children diagnosed with developmental delay, ASD, speech and/or language delays, or other cognitive delays.
Based on the user's ability level, the app facilitator can choose between easy and hard. To play, the learner simply chooses a category and a voice tells the user what picture to touch. The app is pre-loaded with two free categories (vegetables and shapes) to play. More categories can be purchased within the app for $.99 each. During our trial, users were engaged and enjoyed the calming music, realistic graphics, beautiful artwork and instant feedback. Users between 2 and 6-years-old were able to play the app independently.