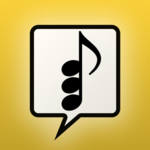 BridgingApps just published the following BridgingApps Reviewed App to the site:
The Suggester app is a great resource for teachers, therapists or users who are looking to create music based on chordal progressions. The basic download gives users access to all major scales (to get other scales and modes you must unlock the full app for $6.99 which gives the user access to more options. This app can be used to help build chordal progressions based on the scale that is picked. They have options from pre-selected patterns, suggestions, catalog and you can even add additional sections. It does help to have some basic music knowledge (either the user or teacher/therapist), however, due to the make up of the app it is not completely required.
Suggester can be used in a variety of settings such as classroom, therapy of at home. In addition it can be used in a variety of populations including but not limited to autism, developmentally delayed, PTSD, physical disability (working on range of motion/ rehab) and older adults. This app is a great tool for teachers and therapists who need to create original music progressions for sessions or classes. It can be as background music where clients will need to move or focus for a duration of time. This app can also be used as a modification for users who may need some additional help in music classes.
Click on the link below for full review:
https://search.bridgingapps.org/apps/dcfd9d66-cfe9-49d9-a53e-c41211aee5be