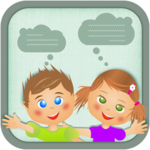 BridgingApps just published the following BridgingApps Reviewed App on the site:
Social Norms is an app that can be used to teach children social rules and behaviors. The app includes 50 social stories with pictures. In addition, individualized stories can also be created within the app and you can add your own photos, text and audio recordings.
This app is highly recommended for children on the autism spectrum. The visual pictures, written text and pleasant speaking voice give the child many opportunities to comprehend the information given. Also, the ability to make your own stories creates an opening for the therapist or for the child to make stories needed for a particular individual or situation.
Click on the link below for full review:
https://search.bridgingapps.org/apps/f9fa9329-8ff4-4550-828a-468afc5a7a5c