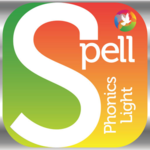 BridgingApps just published the following BridgingApps Reviewed App on the site:
Simplex Spelling Free Light – With Reverse Phonics was a favorite with the group of teachers and students we tested this app with. Upon launching the app, teachers loved that they were able to select some specific settings such as upper or lowercase, displaying a 'success message' to encourage students and select the type of keyboard which would be displayed.
Students who used this app ranged in ages from 6-8 years old. All students were engaged during centers, as they interacted with this app for a minimum of 20-30 minutes at a time. Students using this app also varied in skill and cognitive levels.
Click on the link below for full review:
https://search.bridgingapps.org/apps/eb46f9f8-555a-b8e0-3642-a30e34c6bf3b