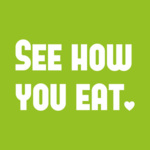 BridgingApps just published the following BridgingApps Reviewed App on the site:
See How You Eat Food Diary is a simple and easy-to-use photo food journal helping you to eat healthy and smart. At the same time tracking your meals. Food diaries are a valuable tool for dietitians and health care professionals when working with clients. As part of nutrition evaluations, follow-up nutrition counseling sessions and for individuals working on their own wellness goals outside a clinic environment, food diaries provide necessary information and are an effective behavior modification and accountability tool. While the actual and accurate information from food and beverage intake is important, the task of completing food diaries is known to be time consuming and tedious.
Mobile device apps designed for tracking food intake have stepped in and reduced some of the "user burden" for completing food diaries and have emerged as powerful, inexpensive, and convenient tools for monitoring dietary behaviors. The See How You Eat app has transformed documenting food intake beyond itemized food entries into an even more efficient and user friendly interface with the use of photos to create a visual food diary.
Click on the link below for full review:
https://search.bridgingapps.org/apps/af300528-91d2-4aed-8a5d-e5b42cf1ced6