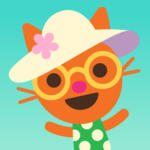 BridgingApps just published the following BridgingApps Reviewed App on the site:
Sago Mini Babies Dress Up is an app that allows the child to dress up four of the characters from the Sago Mini series of apps. The characters are a dog, rabbit, bird and cat and each have outfits that can be mixed and matched to be placed on them.
Get ready for hours of super cute dress up fun. Play with babies Jack, Jinja, Harvey and Robin in the most adorable dress up app for toddlers. Use your imagination to assemble outfits for each character. Try on dozens of funny costumes and accessories to create hundreds of combinations. Mix and match glasses, hats and more to spark funny reactions.
Click on the link below for full review:
https://search.bridgingapps.org/apps/a662e715-561d-44f2-afb8-57ede32a6ee1