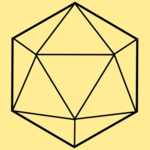 BridgingApps just published the following BridgingApps Reviewed App on the site:
Roll The Bones is a simple app for rolling dice. It can be used to play all kinds of dice games including Monopoly, Yahtzee, Dungeons & Dragons, etc. At this time, the app is only available on iOS. It also works very well with VoiceOver. All elements are clearly labeled, and VoiceOver will automatically speak the total of a roll.
Roll The Bones is a simple yet powerful dice rolling utility. You can use it to play any game that involves dice without the need for purchasing physical or special dice. Best of all, it is completely free.
Click on the link below for full review:
https://search.bridgingapps.org/apps/b4c11cfd-fa21-4d03-9b6e-c6810a0bf071