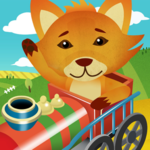 BridgingApps just published the following BridgingApps Reviewed App on the site:
Reading Train is a wonderful interactive book app that is designed for early learners in preschool through 1st grade. The app allows for multi-users to set up their own bookshelf where they can store books that they are currently reading. There are three different book levels where users can choose from a variety of topics for both fiction and nonfiction including colors, story land, animals, numbers, shapes, life science, physical science, earth and space.
We have used this app with children between the ages of 4 and 7 years old with the diagnosis of autism spectrum disorders and ADHD. All of the children we have used this app with have enjoyed the app and willingly participated in the comprehension activities. Students were motivated with the game at the end of each book and really enjoyed listening to themselves read by playing back their recorded books found on their bookshelf. Students love to hear how they sound. This app is fun and its easy interface makes it a great addition to the classroom or home.
Click on the link below for full review:
https://insignio.bridgingapps.org/apps/40a98246-42dd-44c8-84be-885ac09ad83d