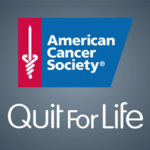 BridgingApps just published the following BridgingApps Reviewed App on the site:
Quit for Life is a smoking cessation program from the American Cancer Society. It is a well developed program with several layers of support to help individuals successfully quit tobacco use. These supports are built around it's web-based learning program and include telephone-based coaching, personalized "quit" text messages, online peer support including an active Facebook page, motivational personalized emails, and a Quit for Life app. The app itself is available to anyone to download even if they are not participating in the full Quit for Life Program.
BridgingApps reviewed the Quit for Life app on an android platform from the perspective of their clients which include veterans, seniors, adults with disabilities, caregivers and parents who are considering quitting their tobacco use. Quit for Life is also available for iOS but needs to be updated for iOS 11 compatibility.
Click on the link below for full review:
https://search.bridgingapps.org/apps/c097183b-760e-433c-befd-984e3295da80