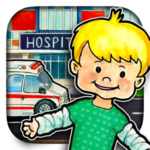 BridgingApps just published the following BridgingApps Reviewed App on the site:
My PlayHome Hospital, is the newest app from the developer PlayHome Software, Ltd. Like previous versions, My PlayHome Hospital is an engaging digital doll house, with life-like manipulatives for hours of creative play. Users can wander the hospital and visit multiple rooms in the two-story building. The first floor is home to an admissions desk, imaging laboratory (complete with real-time "x-rays"), waiting room, gift shop and ER. Players can take the elevator upstairs, and 'visit' friends and family staying on the in-patient floor.
This app has hundreds of touch-screen screen components, allowing nearly endless possibilities for users to create their own personal stories. PlayHome Software has made sure to include every detail to make the doll hospital as realistic as possible. Users can give their patient an IV, push them in a wheelchair, purchase items in the gift shop, and even update patient charts or administer an EKG.
This app is perfect for child life professionals, and can be a fun intervention for children undergoing tests, surgeries or medical procedures. My PlayHome Hospital can help young children manage stress, and ease their fear and anxiety through therapeutic role-playing. Using this app can also help children better-understand medical procedures from a visual perspective, rather than just through verbal cues. This is particularly useful for those who are nonverbal, or have speech/language delays. My PlayHome Hospitals gives young patients a tangible understanding of what to expect, as well as a perceived sense of control. This app is useful not just for pediatric patients, but their siblings as well, which is at the heart of all family-centered care.
Click on the link below for full review:
https://search.bridgingapps.org/apps/8861b389-c184-465f-ab2a-d6dcf503b7a9