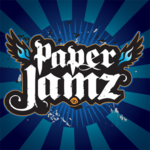 BridgingApps just published the following BridgingApps Reviewed App on the site:
Paper Jamz Drumz is a fun music app for users of all ages and abilities. Perform concerts on the go with your iPhone, iPod Touch, or iPad and become an instant rock star.
The app is a great way to work on fine motor skills, using both isolated fingers and each individual finger to tap on the different drums on the drum kit. Pick different kits based on what each child might need visually (some have more contrast than others). Use the Paper Jamz Drumz app to creatively work on following directions and listening skills. Have students tap a number of times using targeted fingers, tap to the beat of the music playing, or even start/stop according to the music. As students get older they can work on auditory skills such as playing to the beat or certain rhythms.
Click on the link below for full review:
https://search.bridgingapps.org/apps/d3c06ad8-ae33-443c-936e-88b56f95bf17