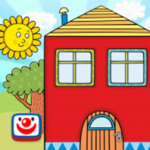 BridgingApps just published the following BridgingApps Reviewed App on the site:
My First 500 Words is a fun and educational app designed to help children learn words. It presents with 10 different locations in beautifully drawn pictures. The child touches items within the picture and a voice names the picture. The locations include a store, a farm, a playground, a city and five rooms in a home. There are over 500 words embedded within the scenes.
The app was reviewed with preschool children with developmental delays and autism. They enjoyed touching the pictures to hear the words spoken. Many children imitated the voice in repetition. This app is recommended for children learning vocabulary. It is a simple app without distracting sounds or actions but with a large variety of words every child will need to learn and use.
Click on the link below for full review:
https://search.bridgingapps.org/apps/9605f57a-c775-48a3-8bc8-5eb4e1fdc9ee?page=NaN&query=my%20first%20500%20words