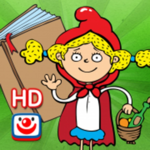 BridgingApps just published the following BridgingApps Reviewed App on the site:
Animated Red Riding Hood retells the familiar story through interactive pictures and characters and then adds a new twist to the end of the story. Upon opening the app, the child may chose to listen to a narrator tell the story or read the story aloud. As the child moves through the book, there are many animations in the scenes. When an object is touched, a movement or sound is produced. This keeps the child's attention and imagination engaged during the story.
Animated Red Riding Hood was reviewed with elementary aged children with developmental delays. They enjoyed the music, colorful pictures, and animations on each page. This app could be very useful for teaching the concepts of sequencing for young children and learning about making predictions for older children.
Click the link below for the full review:
https://search.bridgingapps.org/apps/5aad2164-d2b3-4e7a-bf18-cd26d6f6e389?page=NaN&query=animated%20red%20riding%20hood