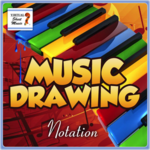 BridgingApps just published the following BridgingApps Reviewed App on the site:
Music Drawing Notation is a music app designed to write music by putting notes on a music staff. Using the app, users are able to easily put down melodies on the go. Write music simply by using your finger to put notes on the music staff, move notes around, change the notes' pitches by just moving them up and down, and modify their duration by selecting the corresponding value button.
We recommend using the app to address different goals/skills such as fine motor, attention, self-expression and turn-taking. How it is used depends on user age and whether in a group or individual setting. It can also be used to work on general music skills. You can play what has been composed at any time and save or email the file.
Click on the link below for full review:
https://search.bridgingapps.org/apps/54ecd541-13c1-432d-9d2a-92a280a5bbd4