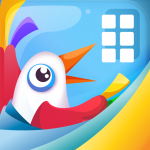 BridgingApps just published the following BridgingApps Reviewed App on the site:
Motion Math: Wings and Motion Math: Pro are designed to help students build multiplication skills. This app shows multiplication in six different visual forms: rows of dots, clusters of dots, "groups of" dots, a grid, a labeled grid, and symbols. The paid version features additional levels as well as more treasures and colored feathers.
Motion Math: Wings aligns to curriculum standards and is great for students in Kindergarten, 1st, or 2nd grade in the early stages of learning multiplication or to help later in elementary years as a practice tool. What a fun way to learn multiplication in the classroom, at home, or in the car.
Click on the link below for full review of Motion Math: Wings:
https://search.bridgingapps.org/apps/16c5d6a0-c504-611e-3ba0-b8a4ccfde7d9
Click on the link below for full review of Motion Math: Wings Pro:
https://search.bridgingapps.org/apps/36b83d8b-29ec-faba-7b1d-a8d188e95594