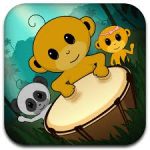 BridgingApps just published the following BridgingApps Reviewed App on the site:
Monkey Drum is a great music app for the classroom, therapy sessions or at home. Users "compose" pieces using these sound and incorporate different patterns and even slow down or speed up music. You can also select to play a pattern and the monkey will imitate what the user has played. This can be a great cause/effect or following direction tool if you request the student/user to play certain patterns or a number of times. You can also unlock other items such as a microphone, other sounds and animals just by playing. You can also save and name the songs the user creates.
Based on the age and population you can work on cause/ effect, following directions, listening, back-forth communication (using sounds), music composition, attention to task just to list a few areas this app can help to address. The free version comes with 3 different percussion sounds, both melody and rhythm based.
Click on the link below for full review:
https://search.bridgingapps.org/apps/a4cc2f6c-b710-430f-9f32-fea88700d87a