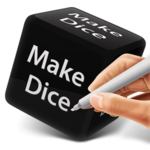 BridgingApps just published the following BridgingApps Reviewed App on the site:
Make dice anywhere, anytime on an iOS device using the Make Dice app. Users can create any type of dice for students, or participants to use in the classroom, in therapy or at home. You can upload or take any pictures you would like to use for each side of the dice. We have used images to represent songs or music, pictures of participants, representational pictures as well as numbers and colors on the dice. It all depends on how you or the participant want to use it and what goals are being addressed. This can also be a nice tool for schedules and deciding what should happen next or predicting what could happen next.
The Make Dice app can be used in a variety of settings including but not limited to the classroom, therapy settings and at home. It can be used for students and participants with and without disabilities and is a great tool for inclusion. We have used this within a variety of settings with participants ages 3 and up both with and without disabilities.
Click on the link below for full review:
https://search.bridgingapps.org/apps/d1b7c53c-9b33-4c38-a696-e0802fdc29eb