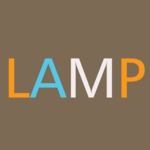 BridgingApps just published the following BridgingApps Reviewed App on the site:
LAMP Words For Life is a full English/Spanish vocabulary augmentative and alternative communication (AAC) language app that combines the power of the PRC Unity language system with Language Acquisition through Motor Planning (LAMP) principles and strategies.
LAMP Words for Life (WFL) is different than many other augmentative communication apps because it allows the user to be autonomous. For example, if the communicator is at a football game, other augmentative apps might have a dedicated page related to vocabulary about football games (these words are referred to as fringe vocabulary). However, since language is personal and authentic, the user might just want popcorn at the concession stand, but only has access to words such as football, team, go, and cheer.
The LAMP WFL app is made up of high frequency words that a communicator can use how they want, when they want, and in a manner that is meaningful to them. Although fringe vocabulary is useful in very specific situations, core vocabulary are those words that communicators use with high frequency. The LAMP app provides a complete language system that allows the user to express their authentic thoughts without the constraints of using pre-set words programmed by someone else.
Click on the link below for full review:
https://search.bridgingapps.org/apps/35b8f224-231d-b189-faaf-8dc4b3b9fb03