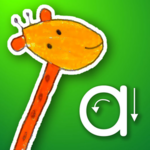 BridgingApps just published the following BridgingApps Reviewed App to the site:
iWriteWords Lite teaches early learners to write the letters of the alphabet, numbers up to 20, and simple words while developing fine motor skills. After tracing each item, children flick or tilt the letters or numbers into the corner of the screen. Mr. Crab teaches kids to write using a follow-the-numbered-dots approach. It is a simple three-step activity that guides learners from writing a letter to completing a word and then being rewarded with a picture to associate with the word they wrote.
We have used this app with typically developing children and early learners with fine motor delay between the ages of 2 and 6. iWriteWords is highly engaging and kids LOVE dragging Mr. Crab across letters and numbers! BridgingApps recommends iWriteWords to to parents and teachers of preschoolers.
Click on the link below for full review:
https://search.bridgingapps.org/apps/8020949a-9f05-672d-fa07-26d7a26e2cf1