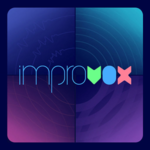 BridgingApps just published the following BridgingApps Reviewed App on the site:
Improvox is a fun app for kids and adults to use as it gives the user the ability to have real-time pitch correction and harmonization. The user can also add other effects and record their own music. Headphones are required to use it and you can import music from iTunes and share recordings via email or cloud. It does need to be updated to iOS 11.
The Improvox app can be used in an individual, group or home setting. Users have the ability to create and explore how to record music. It can be used to work on self-expression, communication, social-emotional areas and even to address working as a team if multiple people are using it to create something.
Click on the link below for full review:
https://search.bridgingapps.org/apps/9be9430f-ae17-4f2f-85a7-ae57ad8b02c3
https://bridgingapps.org/2018/09/bridgingapps-reviewed-app-word-swag-cool-fonts/